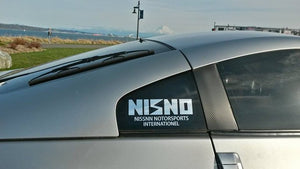 NISNO STICKER
Precision vinyl cut NISNO sticker for vehicle application.
White, dark blue and chrome color available.
4 x 9 in
Please make sure surface of application is clear of any debris or residue to ensure proper application.
Made in California
NISNO is an original design cosplay of a popular anime character. We are not affiliated, associated, authorized, endorsed by, or in any way officially connected with Nismo, Nissan, or any of its subsidiaries or its affiliates. The official Nissan website can be found at https://www.nissanusa.com/. The name "Nismo" as well as related names, marks, emblems and images are registered trademarks of Nissan Motor Company Ltd. 
 No attempt has been made to identify or designate all words or terms to which trademark or other proprietary rights may exist. Nothing contained herein is intended to express a judgment on, or affect the validity of legal status of, any word or term as a trademark, service mark, or other proprietary mark.